Exploring Family-Friendly Neighborhoods in Vibrant Vaughan
Thinking of moving to Vaughan? Look no further! We've got you covered with a selection of the best family-friendly neighborhoods in this vibrant city. Let me introduce you to these fantastic areas that offer a perfect blend of suburban tranquility and easy access to city amenities
Vellore Village: Peaceful Suburban Living with Urban Conveniences
The highlight of Vellore Village is its excellent access to highways and major roads, making commuting a breeze.
Vellore Village boasts an impressive array of 17 public schools, 19 Catholic schools, and 2 private schools, ensuring excellent education for children.
It is a safe and secure residential neighborhood with a strong sense of community pride, mainly consisting of families with two children, and around 91% of residents are homeowners.
Nature enthusiasts will love the 22 parks scattered throughout the area, each offering unique recreational opportunities. Vellore Woods Park, for instance, features a half basketball court, a playground, open fields, and scenic pathways alongside three ponds.
Vellore Hall Park offers a playground and forested trails behind the old Vaughan Town Hall. Matthew Park provides excellent facilities for athletic pursuits, such as a running track, baseball diamond, tennis courts, and a playground.
Recreation is well-catered for with the modern amenities at Vellore Village Community Centre, including a lap pool, water slide, cycling studio, sauna, and more. Fitness enthusiasts can find options like GoodLife Fitness and smaller gyms nearby.
The neighborhood's prime location ensures easy access to renowned attractions like Canada's Wonderland, Reptilia Zoo, golf courses, York University, and Vaughan Mills outlet mall.
Housing in Vellore Village mainly consists of detached houses (51%), followed by townhouses (27%) and semi-detached houses (18%). Most properties offer 3 bedrooms, accommodating families of different sizes and preferences.
Sonoma Heights: The Best of All Worlds
For shopping needs, Sonoma Heights has Islington Village Centre and Rutherford Shopping Centre nearby, with stores like Food Basics and Electroshack. Vaughan Mills, a renowned shopping destination, is also a short drive away, offering a wide selection of stores.

With 97% of residents owning their homes, Sonoma Heights has a strong sense of community pride.
Nature enthusiasts will love the nearby William T. Foster Woods and its connecting trails, providing over 700 hectares of beautiful land along the Humber River watershed, leading to Boyd North and Glassco Park.
Sports lovers, especially hockey enthusiasts, will enjoy the Al Palladini Community Centre, which offers an exhilarating game experience and various amenities like a lap pool, fitness center, saunas, and squash courts.
The Country Club features an award-winning 18-hole golf course and ample space for events, making it perfect for conferences and gatherings.
Families will appreciate the proximity to numerous primary and secondary schools, such as Lorna Jackson Public School, Elder Mills Public School, St. Padre Pio Catholic Elementary School, and Emily Carr Secondary School.
In Sonoma Heights' housing market, detached houses dominate, accounting for 63% of sales, while semi-detached houses and townhouses make up 25% and 12% of the market, respectively. Most properties offer 3 bedrooms, suitable for families of various sizes.
Kleinburg: Charming Village with Graceful Heritage
Festivals like Bindertwine, Canada Day, and Christmas tree lighting create a vibrant community spirit.
Islington Avenue's restaurants like La Baracca and Villagio Ristorante serve authentic Italian feasts. Balzac's Coffee and Old Firehall Confectionery cater to coffee and dessert lovers. The Doctor's House offers a beautiful event space for weddings and other milestones.
Golf enthusiasts will enjoy The Copper Creek Golf Club, known for its top-notch course and amenities.
Kleinburg houses five primary schools and notable secondary institutions like Emily Carr and Tommy Douglas Secondary Schools.
With 84% detached houses, 12% townhouses, and 4% semi-detached houses, families can find spacious living spaces to suit their needs.
East Woodbridge: A Beloved Neighborhood for Adventure and Exploration
Woodbridge offers residents exciting opportunities like Canada's Wonderland for thrill-seekers and Vaughan Mills mall for avid shoppers with high-end outlets and entertainment like Legoland Discovery Centre.
Market Lane Shopping Centre hosts joyous soccer fans and annual Woodbridge Fair Demolition Derby entertains everyone.
Weston Road is the main artery with diverse shops and Woodbridge Square at its intersection with Highway 7 features unique boutiques, restaurants, and convenience stores.
East Woodbridge has 17 parks with various amenities like sports facilities, ideal for family activities.
It boasts access to eight primary schools and four high schools, including Blue Willow Public School and Vaughan College, ensuring quality education for families.
Housing options in East Woodbridge range from elegant detached houses to more affordable townhomes and condominium apartments, with a high homeownership rate.
Most property sales are of detached houses, offering four bedrooms, ideal for families.
Patterson: A Suburban Haven with Excellent Amenities
Patterson is a suburban community located in the city of Vaughan, consisting of Dufferin Hills, Thornberry Woods, Thornhill Woods, Upper Thornhill Estates, and the Valleys of Thornhill.
Most of the homes in this area are detached two-storey homes and townhouses, making it an ideal place for families.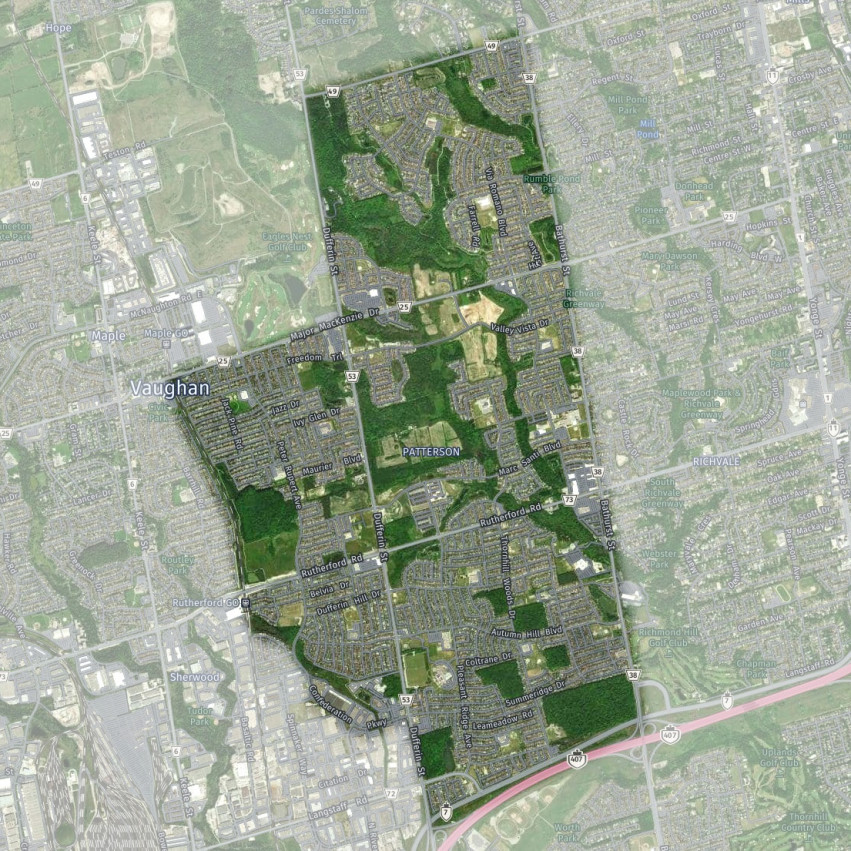 With easy access to highways 407, 400, and 7, commuting to anywhere in the Greater Toronto Area, including Barrie, is a breeze.
Patterson is also home to many walking trails, including the East Don River, which flows through the community, leading to MacMillan Nature Reserve and Sugarbush Heritage Park.
For sports enthusiasts, the North Thornhill Community Centre is an excellent place to enjoy fitness, swimming, and other activities.
For those who enjoy shopping and entertainment, there are plenty of options, ranging from the large Vaughan Mills Shopping Mall to Canada's Wonderland, the country's largest amusement park. Additionally, there are numerous quality golf courses, including the exquisite Eagle's Nest Golf Club, and an abundance of nature reserves.
For those seeking essential shopping, there are options available along McNaughton Road, including PetSmart and Lowe's Home Improvement. On the other side of Eagles Crest at Major Mackenzie Drive and Dufferin Street, you'll find several major banks, and a convenience store.
In terms of education, Patterson is well-served with quality institutions such as Toronto Waldorf School, Highland Academy Of Canada, Dr Roberta Bondar Public School, Forest Run Elementary School and many more. There are also schools in the nearby cities of Toronto, Richmond Hill, Markham, and Brampton which are easily accessible by road and public transport.
Patterson largely features detached houses, accounting for 61% of sales, followed by townhouses at 26% and semi-detached houses at 12%. The majority of properties have 4 bedrooms.
Vaughan has an array of incredible neighborhoods, each with its unique offerings and benefits. As you explore these family-friendly areas, always keep in mind your preferences and priorities to find the perfect place to call home in this vibrant city.

Have Questions?
It was my great pleasure to list our home with Khoa & her team of her husband and brother. They were able to get us the best record price in our area, which is a great help towards our new home purchase.
Being a parent with 2 little ones at home, I greatly appreciate the help with renovation, staging and the closing process. It was so well done that we got 5 multiple offers with no condition and short closing time.
I strongly recommend Khoa and her team.
- Vi Ngo

I agree to be contacted by Real Impact Group brokered by Real Broker Ontario Ltd. via call, email, and text. To opt-out, you can reply 'STOP' at any time or click the unsubscribe link in the emails. Message and data rates may apply.
By clicking Submit, you agree to our Terms.
View Our TOS and Privacy Policy
Thank you for reaching out!
We'll get in touch with you soon.